I am Daniel Patrick Quinn and Gunung.org is the home of my various projects. I am happy to offer my expertise on a self-employed basis. A list of projects, publications and creative works is available here and my CV is available here.
I am Co-Founder of Gunung Bagging non-profit initiative – since 2009 the most comprehensive online guide to the mountains and volcanoes of Indonesia, Malaysia and Timor Leste (East Timor). In 2021 I wrote 'Gunung Nusantara', a guidebook to 100 of Indonesia's finest hikes as an 'introduction' to the topic, and am currently midway through writing a companion work covering 50 mountains in Malaysia entitled 'Exploring Malaysia's Mountains' and due out in October 2024.
I am Artistic Director of One More Grain – an avant-rock group founded in 2006 in London and which has released 6 albums showcasing a huge array of styles, instrumentation, concepts and techniques, the most recent being 'Modern Music' (2023) which was the last in a trilogy of albums begun in 2022 with 'Beans on Toast with Pythagoras'. Many of our works have been met with considerable critical acclaim including Album of the Week in the Sunday Times and national and international airplay including BBC Radio 1, 3 and 6Music. We have a small but incredibly loyal fanbase but have yet to find significant commercial success, primarily due to a lack of industry funding, no live performances since 2008 and almost no paid-for publicity campaigns. Alongside the studio albums we have released remixes, including using AI (Artificial Intelligence), and an Indonesian gamelan interpretation of works by Iwan Gunawan and his Ensemble. Prior to founding One More Grain, I managed an Edinburgh-based record label called Suilven Recordings (2003-2006) and I occasionally release solo works such as 2016's 'I, Sun'.
I am Custodian, Project Manager and one of several Topographic Researchers for the pioneering World Ribus database of the approximately 7150 mountains on Earth with a topographic prominence of 1000 metres or more. In other words, a list of the 7150 most prominent mountains on our planet. This is a bit like the famous list of 3000ft-high Scottish mountains called the Munros, but covering the entire planet and using more objective criteria. This project was begun in 2019 and will be officially launching in 2024.
Having previously spent several years living in Southeast Asia, I now live in Caithness in the Far North of Scotland and work part-time in the Education sector and part-time on the projects listed above. My particular fields of interest are creativity, decision-making, critical thinking, AI and ethics. I am always keen to get involved in new projects. You can download my CV here.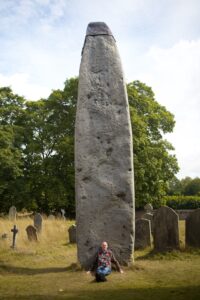 Daniel Patrick Quinn, September 2023
dan@gunung.org